How long does it take to get a GED? If this is the question that has been bothering you, Get-TestPrep get the answers.
The length of time it takes to obtain your GED is entirely dependent on your skill level and education. It takes 3 months on average, but it may be faster depending on how well-prepared you are for the test. Check out the step-by-step process you'll need to go through in order to get your GED.
How Long Does It Take To Get A GED?
The length of time it takes to obtain your GED is heavily influenced by how well you prepare and study. The majority of people who want to get their GED spend less than three months preparing for and taking the exams, but it can take longer depending on each individual.
You can register and take the exams whenever you want, but those who study and prepare for the exam have a better chance of passing. The time it takes you to earn this certificate is almost entirely determined by how long you decide to study for the exam and how many times you need to take each subject test.
Studying and reviewing 2-3 times per week may help you prepare for and pass the test in a matter of months, depending on your previous grade. In general, the more you study, the faster you will learn the essential knowledge required to pass the GED test subjects.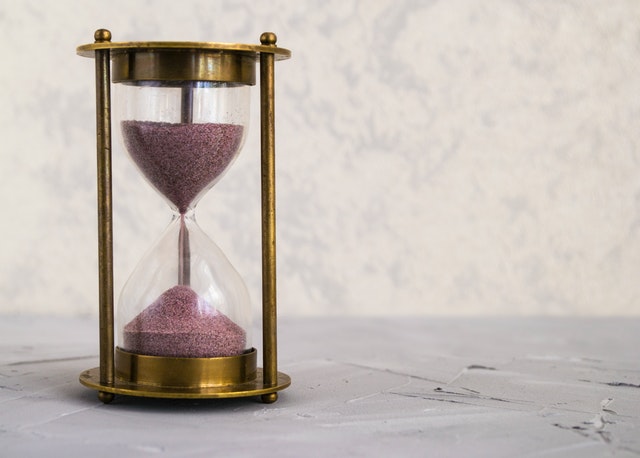 How Long Is The GED Test?
The whole GED exam takes approximately seven hours, breaks are accounted for, to finish and the test must be taken at an official GED testing center. Candidates can take all four subject tests at once or spread the individual tests across multiple visits to a testing center. If a student does not pass a topic test in three attempts, there is a 60-day waiting period before the next retest.
Students can take the GED test up to three times with no waiting period and then again, you can retake the test every 60 days. This provides you with 8 testing opportunities during a civil year for those needing to retake the test.
There are four topic tests that structure the GED test: Reasoning Through Language Arts (which covers both Reading and Writing), Mathematical Reasoning, Social Studies, and Science. 
Reasoning through Language Arts (RLA):

The RLA section is broken into two subsections: writing and reading. It gives you 150 minutes in total, of which 45 minutes is to write one essay completely. This section also includes a break of 10 minutes. 

Science:

The science section lasts 90 minutes. You'll have to fill in 2 short answer questions that are 10 minutes each.

Mathematical Reasoning:

The mathematical portion is 115 minutes, and is divided into two parts with a short break. 

Social Studies:

The social studies part of the test gives you 70 minutes to finish 50 questions in total, with no break in between. 

What Score needs to be achieved in order to pass the GED?
Each part of the GED test is individually scored from 100 points to 200 points, with the minimum passing score being 145. It is highly recommended to check with your institute of higher learning to see if they have minimum GED requirements should you wish to pursue post-secondary education. As a common rule, although 145 is passing, 165 to 174 is considered college-ready, and 175 and above may help you to earn up to ten college credit hours which depend upon your college or university.
How Long Do People Generally Study for the GED? 
The GED test consists of four different exam topics:
Social Studies
Language Arts
Mathematics
Science 
To assess your skills and weaknesses, take the GED Ready practice exam first. You may then concentrate on the areas where you need to improve.
For most people, studying for 90 minutes four to five days per week is an effective study regimen. If this isn't possible, studying two to three times per week is still a fine method, but it may take you a little longer to feel prepared for the test. By providing the finest study atmosphere possible, you can boost your focus and memory of the subject.
It is feasible to study for all parts at the same time and take the test on the same day. You may, however, spread out the test across many weeks and focus your study on the topic you're taking. For example, you might study one subject for three weeks and then take the exam, or you may study all subjects for three months and then take the complete GED test at once.
With a set study program, you'll be able to reduce the amount of time it takes to obtain a GED.
4 Key Steps To Get A GED Easily
Know What Is on the Exam
As mentioned above, the GED exam is divided into four sections. To pass the exam, you must be well-versed in all of these subjects. You will be tested on the following topics:
Reasoning Mathematically
Social Sciences
Science
Language Arts-Based Reasoning
The GED is not a rote memorization test, so devise a study strategy that involves practicing your ability to reason, analyze, draw conclusions, and present answers.
Take GED Practice Exams
Practice tests are an ideal method to become acquainted with the actual GED test. You'll discover your own strengths and weaknesses, along with the exam format. Throughout the study process, take several practice tests to see how you're doing. We highly recommend our comprehensive GED practice test pack 2024 for 4 GED subtests. Practice now to determine your readiness to take the actual test. The results of these practice tests will also show the areas in which you need to improve before taking the actual test.
Schedule Your Exam
You should schedule your test online in advance. There is no set schedule for when you must take the test, so choose a date and time when you will be alert and prepared. Depending on your preferences, you can take the 4 GED exam subjects separately or all at once. Tests are administered at a testing facility near you. To schedule your examination:
Access your GED account.
Select the test subjects you want to take.
Choose the most convenient test date and time for you.
Pay for the examination with a debit or credit card.
Taking the Exam
It's normal to be nervous on the day of the exam. To combat nerves, ensure you've prepared by getting plenty of rest and eating a nutritious meal before entering the exam center. Check out the test site ahead of time to eliminate the possibility of being late. Make sure that you understand where to park and how to get to the testing center.
Review the test rules and bring a snack to eat during the allotted break times. You'll be setting yourself up for success if you follow these suggestions.
How Much Does The GED Cost?
Each state is allowed to set its own fees for the GED subtests and retest prices. You can find the prices on GED.com by selecting your state in the drop-down menu. Generally, the fee is around $30 for each subtest, though, which equates to $120 for all four sections. There are, however, many exceptions: for example, Wyoming costs $20 per subtest, California $35, and in Connecticut, the tests are free. You do not have to take the sections all at once, you can space the sections out over time. Some states also offer up to two free retakes. Use the drop-down menu to navigate to frequently asked questions for what state you want to know, which includes policies, fees, transcripts, and other information.
Read more >> How To Study For GED In A Month? [2024 Updated]
FAQs
Is getting a GED harder than high school?
Whether you will find getting a GED or getting a high school diploma tougher, depends on your learning style and your educational background. There is the fact that the GED requires less knowledge and is generally less academically rigorous than high school exams are.
Which state has the easiest GED test?
Iowa is considered the easiest state to pass the GED test, given the passing rate. Out of 3.124 million people in Iowa, 289,280 adults never obtained their high school diplomas.
What is the easiest part of the GED test?
Science is the one that has the highest pass rate of all four GED subtests, so it can be considered the easiest part for many students. Meanwhile, Reasoning through Language Arts and Social Studies have comparable pass rates, so it's safe to say that these sections are in the same difficulty level.
Read more>>> What's on the GED test
What if I don't pass all the GED tests the first time?
If you failed one of the GED test topics, you are given two additional chances to pass it with no waiting period in between. You must wait 60 days before making another attempt if you fail the third or any subsequent retest. There might be additional state requirements.
How much will the GED retest cost? Is it completely free?
The cost of the GED test and any test retakes varies by state. GED Testing Service will waive retest fees for failed subject tests, and states and test centers can do the same if they wish. The fee of the test subject returns to the normal price after receiving two retakes at the reduced price. If you fail that subject again, you will be given two additional retakes at a reduced rate.
Are there accommodations for those with disabilities taking tests?
Yes. You will be questioned about your preference for accommodated testing when you register for a GED.com account. If you choose "Yes," you'll get more instructions on how to request accommodations. After you submit the necessary forms, each request is evaluated on a case-by-case basis and generally takes 30 days to process.
That's all about how long does it take to get a GED? We hope that with this blog, you'll know how to manage your time to prepare for your GED exam.
Final Words
In conclusion, obtaining a GED is an achievable goal that can open up numerous opportunities for individuals seeking to further their education or career prospects. While the time it takes to get a GED can vary depending on individual circumstances and commitment, it is important to remember that the journey is worth the effort. By understanding the requirements, creating a study plan, and utilizing available resources, individuals can successfully navigate the GED process. So, if you find yourself wondering, "How long does it take to get a GED?" remember that with dedication and perseverance, you can attain your GED and embark on a path toward a brighter future.