The GED, or General Education Development exam, assesses your knowledge of high school subjects. Anyone without a regular high school diploma who wants to further their education or find work can take the test. If you passed the GED and need transcripts, read Get-TestPrep 's article here to learn how to get GED transcripts.
Overview Of The GED Exam
The General Educational Development (GED) exams consist of four academic topic assessments. Test takers who pass these exams are certified as having high school-level academic skills in the United States or Canada. This qualification, like HiSET, is an alternative to the US high school diploma. Passing the GED test allows persons who did not finish high school or do not satisfy the criteria for a high school diploma to obtain a Certificate of High School Equivalency or a similarly named credential.
How To Get Free GED Transcripts?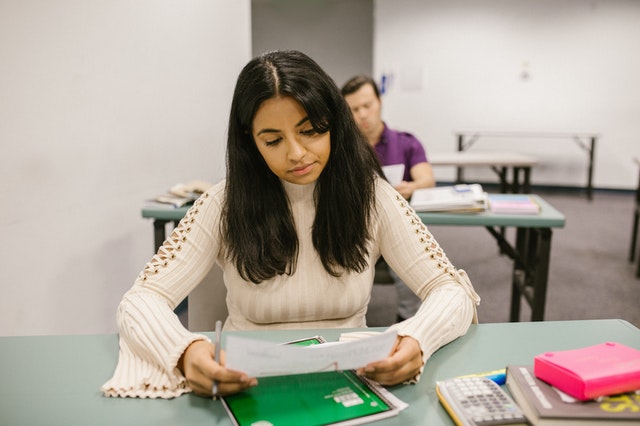 If you took the GED exam on a computer after January 1, 2014, just go to GED.com and follow the steps in the MyGED portal to acquire your GED transcripts. If you took your GED exam on paper before January 1, 2014, you'll need to create an account on GED.com.
After you've created an account, proceed to the 'Transcript Request' page and click the 'Get Transcript' link, which will take you to a list of states. To obtain your transcripts, go to the state where you took your GED® exam and follow the procedures. You'll need to specify the state you passed your GED exam. If you don't recall, make the best guess you can.
It's important to remember that you won't be able to pick up your duplicate transcript or diploma in person.
You should go to Parchment Support and follow the directions in the 'Test Takers' section if you took the GED exam yourself or if you are the parent of a test-taker.
Go to the Parchment website's 'Third Party Ordering' if you are not a student's parent but, for example, an employer or school desiring to get a transcript or information on behalf of a test taker.
Alabama, California, Hawaii, Florida, Kansas, Oregon, Maryland, Rhode Island, Vermont, South Dakota, Utah, Virginia, Washington DC, Washington State, Bermuda, DANTES, Employer Programs, FBOP, and International are among the states and jurisdictions where Parchment may issue GED papers.
You may have documents emailed directly to numerous destinations, like companies, universities, your parents, or yourself, to mention a few. If you wish to send your Parchment transcript to a school, keep in mind that you may only do so online, not by regular mail. There are several colleges that refuse to accept paper transcripts.
Visit our website to get more information about the GED and take our free latest FREE GED practice test to get ready for your exam!
Are GED Transcripts Available For Free?
GED transcripts are not available for free. For several of GED Testing Service's jurisdictions, GED Testing Service has partnered with Parchment to issue diplomas and transcripts digitally. To begin the purchasing procedure, go to GED.com, as previously stated.
Except in Kansas, where the GED transcript price is $20, a GED transcript costs $15. Some states and/or jurisdictions just enable you to obtain transcripts, whereas others may also allow you to order certificates and diplomas.
When you apply for a job, your potential employer will almost certainly do a background check on you, so if you don't have your GED diploma on hand, you should get a copy. Background checks are also becoming standard practice when recruiting part-timers and freelancers.
Where To Get GED Transcripts?
To begin, go to GED.com and sign in. You will be required to check into your account if you took the computer-based GED test after January 1, 2014. If you took your GED exam on paper before January 1, 2014, you'll need to go to the 'Transcript Request Page' and specify the state you took the exam. Then you may sign in on the following screen. You must go to the 'Register for an Account' page if you need to create an account.
Then you must decide the document(s) you want to order. If you want to buy more than one document, you can do so before placing your order.
Then you'll be requested to enter the destination of your transcript. There are various search choices available to you (institution name, city, state, acronym, email address, and so on). Simply click on 'Send to Yourself' to have the transcript emailed to you. If your search yields your desired destination, simply click 'Select.' If your desired destination does not appear, click the 'Not Finding your Destination?' option next to the 'Send to Yourself' button to complete the procedure.
The requested document(s) are normally supplied within 24 hours after the Parchment system has discovered your data. If the Parchment system is unable to locate your documents, or if the system manages to find numerous records, a Parchment support member will manually locate your record(s) and notify you through email.
How To Obtain A Copy Of Your GED Diploma?
You will receive your GED diploma once you have passed all four GED subtests. The electronic diploma and transcript will be emailed to the email address connected with your GED.com/MyGED account at no cost (with download links). Go to this website for information on how to register for the GED exam.
Please note that these download links are only accessible for a short time. Please ensure that you download and preserve these electronic materials as soon as possible.
Parchment, a secure, electronic transcript fulfillment service for high schools around the country, provides the digital version (PDF) of your diploma. Parchment/GED Testing Service uses Blue Ribbon Security technology to verify GED PDF documents each time they are opened.
The blue ribbon symbol appears on the PDF documents, indicating that the certificate is valid, the digital credential is legitimate, and the content of the credential has not been altered.
This digital form of the GED diploma is necessary since it allows you to send it online to universities and businesses that accept electronic credentials. After passing the GED test, you will receive a free GED certificate.
However, as previously said, the individual or entity making the request (e.g., past student, employer, school, employment verification business) pays a $15 charge in most states (and even $20 in Kansas) for each repeat or historical request.
If you wish to obtain a GED credential verification or place an order on behalf of a GED test taker (a so-called 'Third Party Request,' keep in mind that you can only do so if you order it through Parchment/GED Testing Service and your state cooperates with Parchment.
You'll need to create a Parchment account, and the Parchment/GED Testing Service website has further information on how to use your Parchment account for verification purposes.
If your state does not work with Parchment/GED Testing Service, you should contact the authority in charge of providing GED certificates in your state.
Washington DC, Washington State, Virginia, Vermont, Rhode Island, Oregon, Maryland, Kansas, Hawaii, Florida, California, Alabama, International, Employer Programs, DANTES, and Bermuda are among the states and jurisdictions that Parchment/GED Testing Service provides GED diplomas, transcripts, and copies of these documents.
Printed GED Diploma
The four GED modules (subject examinations) have to be taken in person at a state-approved test facility. Until recently, no online GED testing was available. GED Testing Service is currently testing online proctored GED testing as part of a pilot program. When you pass the GED exam, you can obtain a free printed GED diploma through your GED.com/MyGED account.
Simply sign in to your account, go to 'My Scores,' and then to 'Order Duplicates.' You should pick the 'Diploma' option, then the 'Printed Diploma – Free' option.
You'll need to choose to who your GED diploma should be delivered and where it should be sent.
Keep in mind that this free diploma link is only valid for a limited time and may only be used once! So, while purchasing your free diploma, be extremely attentive and follow the directions carefully!
Is It Possible For An Employer To Check Your GED?
Yes, your GED may be easily checked by employers. Employers can verify the validity of a GED diploma in a number of ways. You may be asked to provide a copy of your official transcripts by an employer. If you've misplaced your transcript, please contact the GED testing agency in your state or Parchment.
Employers that have doubts about the legitimacy of transcripts may readily contact testing authorities, and many firms pay for background checks on candidates, which include diploma verification.
Employers can now use Parchment to seek 'Third Party Transcripts.'
Read more: What jobs can you get with a GED?
FAQs
I pass my GED. When will I be able to obtain a copy of my diploma and transcript?
Congratulations on your success! Some states will notify you via email with a copy of your e-diploma and e-transcript right after you pass, whereas others will mail you a paper copy of your transcript and diploma. Look at your state's policy page to find out what they offer. This is your official certificate and transcript; if you receive them via email, download and print them for your records. To download the documents, you will need to use Adobe software (version 6.0 or higher).
I need additional transcript copies to submit to the colleges to which I'm applying. How can I obtain additional copies?
To ask for additional copies of your GED transcript, click on the 'Grads and Transcripts' button on the header menu of GED.com, and follow the directions. You will be directed to the appropriate page based on where you obtained your high school equivalency.
What is the distinction between a diploma and a transcript? What is the purpose of each?
Your diploma is the credential by your state after passing the GED that shows you have obtained your high school equivalency. Your GED transcript is the official record of your GED test subjects and scores. Many colleges and universities require applicants to submit a copy of their transcript before being accepted or admitted.
I requested a transcript but have yet to receive it. How should I proceed?
Most physical diploma/certificate or transcript orders are processed and mailed within 1-2 days but can take up to 2 weeks. Please allow for adequate processing and shipping time. If you are sending your GED transcript directly to a school, you should verify that you have the accurate recipient/administrator and school address before placing an order.
Final Words
Getting a copy of your GED may seem impossible, especially if you haven't taken it in years. Depending on how recently you obtained your GED, finding an institution where you can use it to apply for a job or begin a new career may be difficult. Applying for a copy of your certificate should be simple if you do some preliminary research. We hope this post was helpful in obtaining GED transcripts. Best wishes!