Almost everything is now available online, including banking, shopping, and education. So, can you get a GED test online? The truth is that before the summer of 2020, the answer was no, but in response to the COVID-19 pandemic, the GED testing service developed an online test, and the entire testing process became available online. You can now experience all of our services online, including learning from online courses, practicing with our online GED practice test, and taking the official GED test online.
The requirements and availability of online GED testing vary depending on where you live. When taking the GED online, test takers will be monitored by an online proctor, just like they would at a physical test center. Prior to this online proctored pilot, you could only obtain your GED through in-person testing at a licensed center.
How To Take The GED Test Online?
The GED test is a four-subject high school equivalency exam, which measures a test taker's high school-level knowledge of social studies, science, math, and language arts. Candidates can use online tools to register and prepare for the exam, the GED test can be taken online or in-person at one of about 3,400 GED testing centers in the U.S. and Canada, and even in their territories as well. Candidates can register for the GED test online on the official GED website.
Check eligibility requirements for online testing
Every state has specific requirements for testing, like age requirements or residency requirements. But the GED online test will have some additional requirements. You may wonder whether or not you are eligible to take the test and what standards you have to meet in order to take the test. Well, we're here to answer for you. You are eligible to take the test if:
You're not enrolled in high school.

You are 18 years old or older.

or You are 16 or 17 years old and have met all your state's paperwork requirements. 
No matter which state you live in, you have to be at least 18 years old to take the online GED test. You also need to make sure your computer meets ALL requirements for the online test. Check these requirements for GED or HiSET, which depend on your state's test requirements.
Familiarize yourself with the test format using the GED practice test
The GED test designs a wide variety of question formats in order to gauge a wide variety of knowledge and skill levels. There are various types of questions found on the GED test such as traditional multiple-choice question format, drag-and-drop, hot spot, fill-in-the-blank, and extended response. To qualify for online GED testing, you will need to take and pass the GED practice tests to check your skills level! 
Schedule your test
To set up your online GED test, you have to register with the GED Testing Service. To register for HiSET or other high school equivalence exams, sign up with their Testing Service. There may be a waitlist, so let's sign up, sooner rather than later. Registration can be easier than ever!  Ensure that you go to the official website for your state's testing service to get started. 
You may schedule a testing time online at GED.com before you can take the test. We have to say in preparation for your tests, taking our GED practice tests is an optimal choice for you. Numerous 2024 GED practice tests, questions, and detailed explanations are all available for you to raise your possibility of passing the test.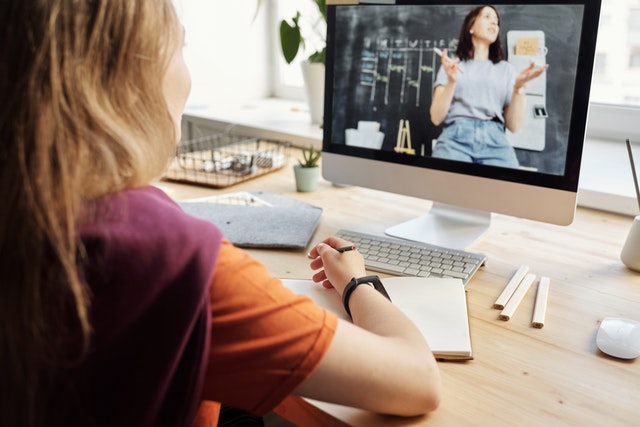 What Is Required To Take the Online GED Exam?
Internet, computer, and webcam: You'll need a computer with a webcam and access to the Internet. Perform a system test to ensure that your computer meets the requirements.
Private Workspace: There should be four walls, a closed door, and no distractions in the room.
Government-issued ID: When you check in for your exam, they will verify your government-issued ID.
'Green' GED Preparation Score: For each subject in which you want to test online, you must have taken a GED Ready practice test and scored 'green' within the last 60 days.
How Does the Online GED Exam Work?
Run a system test to ensure that your computer, webcam, and internet connection satisfy the criteria for online testing.
Schedule your online exam within 60 days of receiving a "green" on a GED Ready practice test.
To begin your test, go to GED.com 30 minutes before your scheduled time.
Check in for your test by following the on-screen instructions, which include verifying your system, I.D., and workspace.
Take your exam while an online proctor monitors you, just like in a testing center.
What's Covered On The GED Test?
There are four subjects that are included in the GED test online. Are you curious about what they're about and how to strive for them?
Reasoning through Language Arts (RLA)
The RLA section is divided into two subsections: writing and reading last a total of 150 minutes, of which 45 minutes is to write one essay completely. This section also contains a break of 10 minutes. You would be required to write some kind of a response like an essay, short essay, or such a short answer as several sentence items. 
It aims to test:
You're able or not to explain, comprehend, and provide the proper answer for questions based on the text given.

Ability to write clearly, read closely, and comprehend written text.

Your skills to use evidence to support an argument.

Your skills to comprehend and communicate with basic English skills are essential for your college or in your future job.
Science
The science section gives you 90 minutes. You'll have to complete 2 short answer questions which are 10 minutes each. You are permitted to bring and use a TI-30XS calculator.
Take note: This section focuses on Earth and Space (20%), Physical Science (40%), and Life Science (40%).
It gauges:
Your ability to deal with explain, comprehend, and answer science-related text questions.

Your ability to solve problems related to science.
Mathematical Reasoning
This portion is 115 minutes and is divided into two parts with a short break. You will not be allowed to use a calculator in the first part, but you can use a TI-30XS calculator in the remaining part.
You will be given a math formula and calculator reference guide.
The section shows your problem-solving abilities in both the Algebraic (55%), and Quantitative (45%)
Social Studies
The section gives you 70 minutes to complete 50 questions in total, with no break in between. A TI-30XS calculator is allowed in this part.
*This section will focus on Geography (20%), Civics & Government (50%), U.S. History (20%), and Economics (15%).
It assesses:
Your reading, explaining, and comprehending skills in social-studies-related text.

Your problem-solving skills in situations related to the social studies topic.
Read more >> Major Differences Between A GED Vs High School Diploma
How to Prepare for the GED Test?
Our free GED practice tests are to determine whether you are ready to take the actual GED test. The results of these practice tests will also identify areas in which you need to improve before taking the final test.
And we're here to provide you with a set of comprehensive practice tests which will help you a lot! Let's check it out!
GED exam format
The GED test includes numerous question formats in order to test a wide variety of knowledge and skill levels. There are not only the traditional multiple-choice question format, but also drag-and-drop, hot spot, fill-in-the-blank, and extended response (short and long essay) types of questions. The following types of questions can be found on the GED:
Multiple-choice questions

Fill-in-the-blank type questions

Drag-and-drop questions

Short answer questions

Hot spot questions
What should you prepare for the test?
Once registering and scheduling your GED test online, you will need to complete all the required verification at the test center on the PC, together with your log-in email and password which you created. 
Find a GED study program that provides you with both study guides and practice tests and then make a detailed study plan to stick to. That will assist you to learn important skills.
A practice test is an optimal choice to start. It shows you:
What kinds of questions will be on the actual GED test?

What it's like to take the test.

What kinds of questions do you have trouble with and what kinds do you do well on (weak questions)?

What you need to study and improve.
Quickly and Effectively Study with a clear plan
If you want to learn the GED better, then you need the plan to study.
Make a to-do list of what you need to know. This will help you get ready quickly and easily. If you're studying with an online course, then it might determine for you what you need to study.

Gather study materials. You may learn best from books, or maybe you work better from an online course or a class. If you're studying on your own, you should find materials for all the things you need to study. An online course or class would give you the study materials you need.

Make a study schedule. Try to study a little bit every day and stick to the plan. It brings more effective results than taking a large amount of time once a week. It also may be more effective to study at night, before you sleep. Make sure you're sticking to your study schedule, and reward yourself when you hit goals.

Review as you go. Go back and review your work every day and once a week. This helps you remember what you've learned better and worse.

Take practice tests. As you go forward, take more practice tests to see how you've improved. When your practice test shows a passing score, schedule a GED Test date and we wish you all the luck!
How Does Our GED Practice Test Work?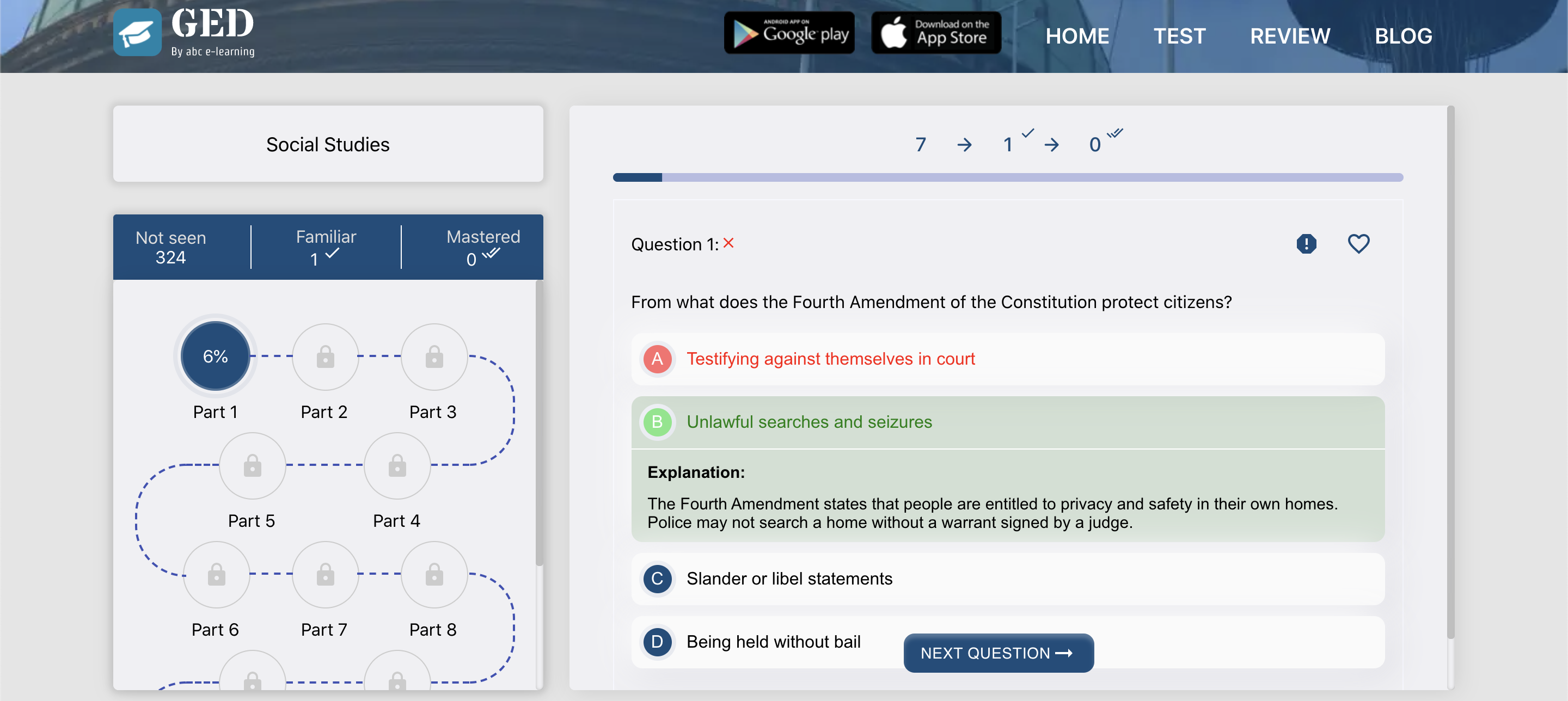 The GED prep test is based on the official GED
In other words, all questions are identical to the actual exams that give you everything you should know to pass the GED exams.
Detailed explanation
We are proud that our website is one of a few platforms providing detailed explanations after GED exam questions. You could understand the roots of the problems and get the GED license on the first visit.
Easy and friendly to study
Our GED practice test is designed as a game that helps you be less stressed but still concentrate to study.
GED Test Online – FAQs
Is getting a GED easy?
Actually, the GED test is quite difficult because it is timed. However, if you prepare well and are in good physical condition, the GED is a breeze. The GED test allows you a set amount of time (70 to 150 minutes, depending on the subject) to complete 35-40 questions per subject area.
What Do You Have to Score on the GED Test to Pass?
You need to get a score of at least 145 on each of the GED's subject tests. Additionally, you need a total score of 580 across the four test subjects in order to pass and receive your GED test credential.
Read more >> How To Study For GED In A Month? [2024 Updated].
Can you get your GED online in Tennessee?
The HiSET exam is available online in Tennessee. Tennessee does not offer the GED test. Applicants must first pass the HiSET Official Practice Test in order to be eligible to take the HiSET exam online (OPT).
Can you get your GED online in Indiana?
To obtain your high school equivalency diploma in Indiana, you must take the HiSET exam rather than the GED test. The HiSET test is available online. To be eligible for online testing, you must first achieve sufficient HiSET OPT results (Official Practice Test).
Can you get your GED online in Alabama?
If you pass the GED Ready tests, you could schedule your GED test through GED.com and take it online in Alabama. Each of the 4 GED sub-exams has a GED Ready test.
Can you get your GED online in Oregon?
Adult learners in Oregon who want to earn a GED certificate can also take the GED test online. They must first achieve "green" (likely to pass) scores on the GED Ready official practice test in order to become eligible for online GED testing.
Can you get your GED online in Kentucky?
In Kentucky, you can take the GED exam online. To be eligible to take the GED online, you must first score in the "green zone" (likely to pass) on the official GED Ready practice test. There is a GED Ready® test for each of the 4 GED subtests, so there are 4 overall.
Final Words
In conclusion, taking the GED test online can be a significant step towards achieving your educational and career goals. Throughout this guide, we have explored the importance of the GED test, the different sections it covers, and the resources available for preparation. By utilizing online platforms and practice tests, you can familiarize yourself with the test format, identify areas of improvement, and refine your test-taking strategies. Remember to manage your time effectively during the exam and implement the tips and tricks provided. With dedication and thorough preparation, you can approach the GED test online with confidence, knowing that you have equipped yourself with the necessary skills and knowledge to succeed. Good luck on your journey to earning your GED credential!