If you're thinking about getting your GED, you probably have a lot of questions about this type of certificate. What exactly is the difference between a GED and a high school diploma? Do employers and universities care which one you have? Is there anything you can't do with a GED or a high school diploma? Get-TestPrep have all the answers you need and more!
Obtaining your high school diploma or GED is the very first step on the way to developing your career. Whether you intend to pursue a university or start a job immediately, most routes will require that you first obtain one of these educational certificates. Each way will allow you to gain the basic academic knowledge expected of secondary education, but each has its own requirements. In this article, we discuss the differences between a GED vs high school diploma and what each can do for your career. Let's get started!
What Is a GED? 
A GED stands for General Educational Development Program, a kind of certificate used as an alternative to the traditional high school diploma. A GED is an optimal choice for individuals who left high school early. It may also be beneficial for students who have such life responsibilities as a full-time job or a family to raise.
Getting a GED requires the following:
You must be 16 years old at least.

You have not already held a high school diploma.

You cannot be currently enrolled in a high school.

You have to take the exam at a physical test location.
One of the advantages that a GED may bring to you is that you can take the test and obtain the GED whenever you want in life. Even if you left high school many years ago, you can still complete your GED test at any convenient time.
If you want to obtain a GED, take our GED practice test questions to study better for the exam.
What Is a High School Diploma?
A high school diploma is a traditional diploma that you receive when you meet all the requirements including courses and fees,… of a high school program. While the specific individual requirements often vary depending on which state students live in, candidates will need to earn credits through taking courses in general subjects such as English, science, and math. Students are generally required to attend school full-time for four years in order to pass their classes and receive their diplomas.
The completion of a high school diploma requires as follows:
Regular attendance in high school classes

The successful completion of various kinds of fees and exams 
Some students may complete their high school diploma requirements sooner, but generally, it takes 4 years to complete the route of a diploma.
Are the GED vs High School Diploma Similar and Equal?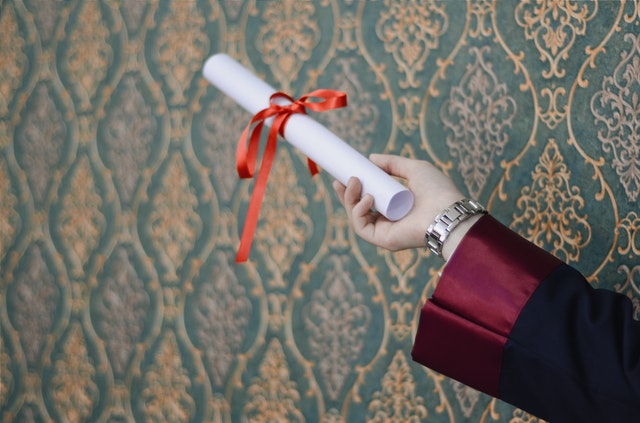 The GED is a kind of high school equivalency diploma, so you can use it to apply for university or for the job you want, just like you would with a high school diploma. You may be wondering which schools and jobs would accept the GED, we've got good news! More than 98 percent of schools in the United States accept the GED, including community colleges, universities, and private schools. If your GED comes along with a good SAT or ACT score, you'll even have a great opportunity of getting into any school you want to come to.
If you're ready to join the workforce immediately, the GED is a smart option. Employers consider the GED equal to a high school diploma, so you shouldn't have trouble applying for jobs—as long as you have the skills and experience necessary for the position you're applying for. And, holding a GED also has the potential to boost your earnings significantly. Statistics have shown many GED graduates go on to make $9,000 more per year than those without a high school diploma.
Read more >> Can You Join The Military With A GED In 2023?
What Are The Major Differences Between a GED vs High School Diploma?
While a GED and a high school diploma both certify that a student has come to possess a set amount of knowledge, there are major differences between the two, including the amount of time an individual has to spend getting a GED compared to a high school diploma. For instance, there are various minimum and maximum age requirements as well as a variety of other differences. 
Discovering which option is right for you will take a thorough evaluation of all your needs and what you expect to get in return. 
1. Age requirements
The first difference you should notice is the difference in the age requirements. In most places, an individual can take the GED at any time after they are 16 years old. The only requirement is that they cannot have already graduated from high school and they cannot be currently attending a high school. Some states also have other requirements that may have to be met in order to get a GED.
As for being eligible for a high school diploma, there is no minimum age requirement, but you must have finished the coursework administered by the state to the satisfaction of the degree-granting school. Most states give students from 1-3 years after their 18th birthday to complete their high school coursework on the taxpayer's dime. There are some states, however, that have high school completion courses for adults where the end result is a high school diploma, not a GED. 
2. Time to finish
Another key difference between a GED and a high school diploma is the time it takes to finish. For a high school diploma, a student may need to spend up to 4 years, although many people try to finish high school in as little as 3 years. 
Meanwhile, a GED is a 7-hour test focusing on five subject areas. In order to obtain a GED successfully, a test-taker must do better than 60% of the graduating high school seniors who took the test. This means that the passing grade on the GED changes over time. While no formal study is required, it is suggested to take a prep course or otherwise spend a good deal of time preparing for the GED. Lastly, your future plans may dictate whether to try for a GED or high school diploma.
Many employers actually don't care whether or not you have a GED or a high school diploma. Similarly, most community colleges have no problems accepting people with a GED instead of a high school diploma. If you wish to go to a university or a four-year college, you should consider getting a high school diploma, or, if that is impossible, spending a year at a community college so you can prove your academic skill to the college or the university you're applying for. If you intend to go to work, your references, resume, and the job skills you bring to the table will be much more important than whether or not you're a GED holder or a high school diploma graduate.
As mentioned, the GED is a high school equivalency diploma and it also can be used to apply for a job or to college just like a high school diploma would. However, there are still more differences between the two diplomas. Understanding well the differences between a GED and a high school diploma can help you decide which one is best for you. 
3. Educational requirements
One of the biggest differences between a GED certificate and a high school diploma is the educational requirements. High schools often have specific coursework requirements that students must finish to be eligible for graduation. Although these certain requirements vary from state to state, students are required to complete coursework in topics like social studies, science, mathematics, language arts, and history. 
Meanwhile, although there are no specific course completion requirements for obtaining a GED, many GED students will choose to complete a test prep course before sitting for the exam. Test questions in the GED exam are from similar topics that high school students learn, so preparation is important, especially for GED takers who have been away from the classroom for a long time.
Testing requirements
While the GED requires a little time to complete, compared with a four-year period of a high school diploma, it does not mean that GED is easier. High school students will often have to take exams in their classes to earn grades that make them able to graduate. They can take advantage of tutoring in order to handle difficult topics and request extra credit to make up for lower scores.
GED takers have to successfully complete a set of four separate exams. These exams are mathematical reasoning, science, language arts, and social studies. They demonstrate the lessons in the traditional high school program. The GED test formats include multiple-choice, long-form, and extended essay questions.
GED takers often improve and upgrade their test-taking skills with practice tests. If a GED student does not achieve a minimum of 60% passing score, they are still able to retake the GED exam up to three times each year.
5. Experience
Individuals who choose to pursue a high school diploma have the opportunity to experience more than the academic side of the school. They can enjoy school events, create friendships, and even discover their hobbies and interests through school clubs and organizations.
In contrast, because GED coursework is focused primarily on preparing for the GED exam, their experience almost relates to academic activities.
Which Option is Best For You: GED Vs High School Diploma?
A high school diploma is an ideal option to prepare you for a career and college studies. But this path takes up to four years to complete, and some who drop out during their teenage years won't have the option to attend high school.
Fortunately, GED graduates can prepare to obtain their certificate in just a few months, and the test can be taken by any age over 18, even 16-17 if you can provide the required documents.
In short, both options are a great way to gain knowledge and life experience to open up new opportunities for your future, including higher pay, continued education, and career advancement.
Consider your education progress
You may want to consider your academic progress up to this point. If you left high school many years ago, you may not be able to return to high school, so holding a GED is the better option. However, if you have already finished a few years of high school and are just close to graduation, then it would make sense to complete your diploma. Studying and preparing for the GED can take many months. So, consider carefully to choose the best path for you.
Read more >> Can You Go To College With A GED? [2023 Updated]
Consider your schedule and other responsibilities 
A high school diploma takes four years of full-time classes with regular attendance to complete. This schedule may not work for everyone due to such external factors as a full-time job, family, or financial concerns. They can make it more difficult to complete the requirements of a high school diploma graduate.
Apparently obtaining a GED does require progress of preparation and studying, but individuals are not required to attend multiple classes. Your schedule is a thing you may consider to determine which program is optimal for you.
Think of your career goals
It can also be helpful to consider your career goals when determining whether a GED or high school diploma is best for you. While some colleges will consider a GED to be equivalent to a high school diploma, others may require an actual high school diploma. Consider your career goals, possible jobs, and academic requirements to make your decision.
A high school diploma also offers the ability to develop essential soft skills. In high school, students have the chance to learn problem-solving, teamwork, organization, and project management skills. Each of these skills contributes to your path in a college program or career and they also can make an individual a more competitive candidate. Meanwhile, during completing a GED program, you also can pursue volunteer opportunities to gain similar skills and experiences.
Do your research
Whether you choose to pursue a high school diploma or a GED, it's important that you know the requirements very well. Do your research in order to get a better understanding of what is required for each type of degree. If you want to pursue a specific career or university, it is definitely useful to better understand what is required when applying. You can also research what minimum education requirements are for any career routes that you are intending to pursue.
FAQs​​
Is a GED as good as a high school diploma?
Basically, once you've obtained your GED, it's typically as good as an actual diploma. Studies say 96% of employers accept a GED as being equal to a diploma. Community colleges will accept GEDs with no other requirements.
​​Is GED easier than SAT or ACT?
You asked about the GED, which is a high school graduation equivalency test. The GED is easier than the SAT or ACT, but the GED is often still difficult for students who take it because GED takers typically are those who made low grades in high school and they dropped out. So, the GED is usually challenging for those who take it.
What happens if I fail the GED?
If you fail one of your GED tests, you are still given two retakes, with no time limit between them. If you fail the third or any subsequent retest, you must wait 60 days before trying again.
Does Harvard accept GED?
Most colleges in the United States, including Ivy League schools like Harvard and Yale, accept a GED certificate in place of a high school diploma. GED diploma holders who have already earned some college credits can apply as first-year candidates or transfer students.
Why is a GED not as good as a diploma?
While obtaining a GED will serve as the prerequisite for some colleges and training programs, it will not provide pupils with the learning necessary to succeed in those programs, nor will it provide students with the discipline that comes from taking courses to satisfy requirements.
That's all there is to it when it comes to GED vs High School Diploma! We hope you found this article useful.
Final Words 
In conclusion, the decision between a GED vs. High school diploma is an important one that individuals must consider carefully. While both credentials signify completion of high school-level education, they have distinct differences that may impact future opportunities. A high school diploma is typically earned by completing all required coursework and provides a more comprehensive educational foundation. On the other hand, a GED offers an alternative path for individuals who were unable to complete traditional high school but still want to obtain an equivalent credential. It is crucial to weigh the specific requirements of colleges, employers, and career paths when deciding between a GED and a high school diploma. Ultimately, both options can lead to further education and successful careers, and individuals should choose the path that best suits their circumstances and goals.