After you have studied and prepared thoroughly for the GED exam, you can finally take it; however, knowing your goal is critical before taking your test. If you pass all four subjects on the GED exam, you will receive a high school equivalency credential as well as a college-ready score, giving you more options for your future education. Knowing what a good GED score is, how many GED tests you would take, and what it means will improve your chances of passing the GED exam with the desired score.
What is a Passing GED Score?
The GED exam consists of 4 subtests: mathematics, science, social studies, and reasoning through language arts. You are required to get a score of at least 145 points on each test to pass the GED exam, so the GED passing score is 145 points. Now, you can take all four subtests of the GED exam online and the scoring scale runs from 100 to 200 points. 
The GED test score chart
The GED test score is divided into four categories including a passing score, a high school equivalency score, a College Ready score, and a College Ready + College Credit. 
Below is a passing score: 100-144 points
Test-takes who get below a passing score have to retake any test subject of the GED exam that they fail. If they did not pass all subjects of the GED exam, they are required to take each subject again. 
Passing score: 145-164 points
Test-takers who achieve a score of 145 or higher on each test subject will pass the GED exam. That score indicates that the examinees' knowledge and skills are at a high school equivalent level, and they can obtain a high school equivalency credential. 
College Ready Score: 165-174 points
Although 145 is considered the passing score on the GED test, a college-ready score should be above 165 points. Test-takers who get a score ranging from 165 to 174 points show that they have the knowledge and skills needed to start college-level courses. In addition, they are probably exempted from placement tests or remedial (non-credit) courses in college; still, they still have to take the college entrance exam. 
College Ready + Credit Score: 175-200 points
Test-takers who can get a score between 175 and 200 points can have the opportunity to take up to 10 college credits or skip the college entrance exam. Although the GED testing service will endorse these students, the college will ultimately decide whether they can receive these benefits or not.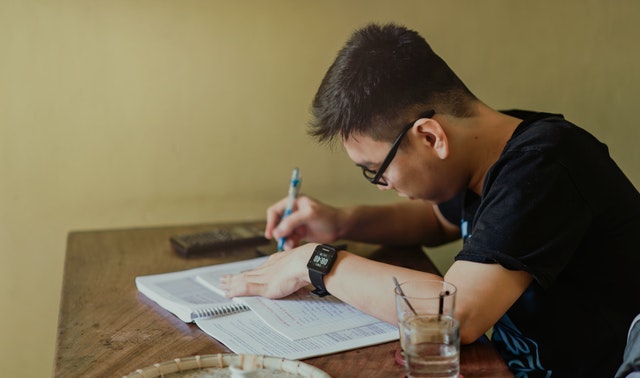 What is a good GED score?
Because you must get at least 145 points to pass the GED exam and obtain a GED diploma from your home state, 145 points per subtest or 580 points for the whole test (4 subjects) is considered a good GED score. However, a score of 145 points is not sufficient if you want to attend college. Therefore, when you set goals for your GED exam, you have to aim for higher scores than the score needed to get a high school equivalency diploma. To get prepared for the GED exam and obtain a high score, take our free GED practice test 2023 for all subjects.
What is a good GED score to get into college?
To get into college with your GED score you must acquire at least 165-174 points. If you get a score of 165 points per subject on the GED exam, you've proved that the knowledge and skills you have are at a higher level. The score that ranges from 165 to 174 is known as "GED College-Ready". With that score, test-takers can be ready to take colleges or universities that they intend to study at, and they may not have to take part in remediation classes before being allowed to attend degree-bearing programs. 
Highest GED scores
175-200 points per subject are the highest GED score range and are known as "College-Ready plus Credit". Test-takers who gain scores in this range have demonstrated to command skills and knowledge at a level that is similar to what is taught in college classes during the first year. 
In addition, test-takers who get high scores can save time and money as some colleges and universities translate GED scores into credits. However, you need to check with your preferred college or university to know whether they accept your GED scores for credits or not because not all of them accept or award credits through GED scores. Although GED scores are eligible for credit, it depends on the program's academic requirements or the school you choose. 
Read more >> What Happens When You Pass All 4 GED Tests?
How to check my GED score online?
All GED test-takers have an account on the ged.com website and they can use it to check their GED score online. Once you completed your GED exam, your score will be posted on the ged.com website within 24 hours. Accessing the ged.com website, log in to your account, and go to the "My Scores" menu item, where you can know not only your highest GED score but also your ready test scores.
GED score system 
The maximum attainable score across the four subjects test of the GED exam is 800 points, of which you have to get at least 580 points with no subject test score less than 145 points to pass the GED exam. You can take each subject test of the GED separately or all together.
In case you did well on all three subtests but failed on one, you may still get 580 points in total; however, you will fail the GED exam in this case as one of the subtests is not sufficient for 145 points. And, you are allowed to retake the subtests that you fail without taking the subtest that you've already passed again. Your total GED score is the sum of the highest score of each subtest you take. Look at the following table to see how a 580 score still does not pass the GED exam.
Reasoning Through Language Arts

145

Mathematical Reasoning 

145

Social Studies

145

Science

145

TOTAL

580

PASSING
Reasoning Through Language Arts

145

Mathematical Reasoning 

145

Social Studies

135 (<145)

Science

155

TOTAL

580

NOT PASSING
Our website and mobile apps provide free up-to-date practice tests, so learn and practice our test to get all geared up for the real GED test fast and effectively.
GED below-passing score
The GED scoring scale is 100-200 points and a score that ranges from 100-144 points is called below-passing. Regardless of your score on other subtests, if just one subtest score is lower than 145 points, you will fail the GED exam. You are required to get 145 points on each subtest to pass the GED exam. If you fail one subtest, you can retake it until you pass all four subtests. 
Does a Score on the GED Test Translate into a GPA?
Although many students believe that the GED score can be translated into a GPA, actually there is no general rule to do so. 
Do Your Best
Once you've decided to take the GED exam, do your best to prepare. You can prepare for the exam by studying the appropriate topic, taking practice tests, and focusing on your weaknesses. The more you learn and practice, the higher your score will be. With a higher score, you will be able to earn college credit and begin your path to a rewarding future.