Nowadays, the military requires fewer soldiers, and the qualifications of those seeking enlistment are higher. Except for one or two percent, all recent recruits had a high school diploma, and the majority scored in the 50th percentile or higher on the Armed Forces Aptitude Test.
Contrary to popular belief, the GED and the military have a closer relationship. The GED was developed in 1942 for veterans and military personnel looking for good jobs. So, if you're wondering if you can join the military with a GED, keep reading this guide and explore with Get-TestPrep!
Can You Join the Military With a GED?
The answer is yes! You can freely join the military with a GED. The military usually requires a high school diploma, but after you earn your GED you can still become a member of the armed services.
No matter what industry you are looking to serve in, you must meet the age, nationality, height and weight requirements, and legal requirements to join the military.
Each branch of the military has tiers for recruits and categorizes all its recruits into one of three categories. Tier 1 recruits have either a high school diploma or have completed 15 college credits (one semester). Tier 2 recruits have a GED. Tiers 3 recruits don't have a GED or a high school diploma.
Tier 3 Recruit
There are hardly any Tier 3 rookies. It's rare for Tier 3 recruits to join the army. If you're looking to join the military and you don't have a GED yet, you should study for and pass your GED exam.
You can get help to achieve your GED with our online GED practice test pack 2024. They can help you feel prepared for your degree so you have a better chance of joining the armed forces.
Tier 2 Recruit
If you hold a GED and are looking to join the military, you must know that each branch sets its own limits. For example, less than 1% of annual recruits for the air force are Tier 2, while about 5% of USMC are Tier 2. One of the biggest ways to get you a small percentage of Tier 2 recruits, is to get a good score on your ASVAB.
Tier 1 Recruit
It doesn't matter if you have a GED or not if you have either a high school diploma or 15 college credits. You are considered to be a Tier 1 recruit, and Tier 1 recruits get first to pick any open positions.
No matter if you hold a GED or not if you have a high school diploma or 15 college credits. Actually, you are arranged into a Tier 1 employer and Tier 1 hires will be selected first for any open positions.
If you have a GED and want to be a Tier 1 recruit, you need 15 college credits which do not have to be attended by a major university or public school but can be earned from career, community, or business colleges. Before you apply to colleges for 15 credits (which can be completed in one semester of school), double-check with your employer to make sure you're applying to a college. Accredited schools in the program will count toward your 15 credits.
If you're looking to enlist but need GED, prepare your GED with our GED practice tests. These practice tests can help you see where your strengths and weaknesses are in the GED and let you know if you'll pass. Not only will it show your progress on GED topics, but it can also help you create a customized study plan to work on the areas where you need to improve, with precise chapters and pages. to study will directly improve your score. 
What is the ASVAB?
The Armed Services Vocational Aptitude Battery (ASVAB) is the key to Tier 2 recruitment into the military. Tier 1 recruits only have to score 31% or higher on the ASVAB. Tier 2 recruits must score 50% or more. ASVAB also provides the basis for what you are eligible to do in each branch. If you score well enough in certain areas and demonstrate knowledge or talent in those areas, you can be hired for a particular job, which pretty much ensures your recruitment.
Read more >> What Jobs Can You Get With A GED In 2024?
Educational Requirements to Join the Military
If you want to join the Military with a GED, you can definitely apply and see if you get admitted. Like all potential recruits, you'll need to be between the ages of 17 and 34, with no more than two dependents, and reach a minimum score of 31 to pass the Armed Services Qualification Test.
You'll also need to have a clean record (a criminal record can disqualify you from service) and meet the Military's physical requirements. Many potential recruits were adopted because of obesity or other disqualifying medical conditions.
Even if you meet all the other requirements, you won't be accepted with just the GED. That's because the Military has so many people to choose from these days, and can pick the most qualified.
So your best bet, if you have a GED instead of a high school diploma, is to earn some college credits. Your chances of being accepted improve dramatically if you earn 15 college credits (one semester's worth). Your chances continue to increase with an increasing number of college credits.
General Education Development and Military Service
Participating in the military is really competitive process. If you don't have a high school diploma, that will be a disadvantage for you when applying to enter any service industry. Earning a GED or General Education Development, also known as a General Equivalency Diploma, is a selection if you can't graduate from high school, but the path is no easier than a traditional high school diploma.
Free general education developmental (GED) testing will be provided for military and women by The Military's Continuing Education System. So they can then enroll in the army, navy, squadron, or air force. It goes without saying that your basic knowledge will be checked carefully.
The GED test gives people who haven't completed high school the opportunity to earn a high school certificate that will help them get into college (or even earn college credit) and lead to rewarding careers.
The GED credential which is recognized across the United States by employers and educators has increased employment and education options for millions of learners. The tests include four Academic areas – Literature (combined reading and writing including an essay), Social Studies, Science, and Mathematics.
The military GED exam is free at authorized DANTES (Defense Operations for Non-Traditional Education) testing centers abroad.
There are 47 states that are permitting free GED testing at the DANTES testing centers at the Army Education Center located in all major United States. Army facilities. If you have any questions about these programs, please contact your local US Army Education Center.
In the situation that the Installation/Post-Army Education Center does not offer the GED exam, you can take the GED exam or one of its accredited alternatives, the HiSET and TASC exams, at authorized testing centers in all 50 states.
In Spanish and French editions, and in Braille, large print, and audio cassette formats, the tests are also available. To join the U.S. military, at all branches of the force, contact the military recruitment office, apply, and work toward a well-paying career and good life in general.
Army high school completion program
Check out the US Army High School Completion Program (or HSCP). This is an Army off-duty education program that offers soldiers and their mature the opportunity to earn a high school diploma or equivalent. The United States National Guard from 2006 to 2013 offered the GED Plus Program to people who wanted to join the armed forces.
And Tuition Assistance, or TA, is authorized for U.S. Soldiers and will cover up to 100% of the cost of programs and courses leading to a high school diploma or equivalent.
Local Army Education Centers can provide a wealth of information about the availability of High School Completion Programs on campus, in the local community, or through the DANTES (Defense Activity for Non-Traditional Education Support) program.
Army GED Plus Enlistment Program
The Military once organized a special enlistment program for disadvantaged youth who did not have a high school diploma and GED. This program, known as the Army GED Plus Enlistment Program, has allowed applicants without a high school diploma or an Army-sponsored GED to obtain a GED for enlistment purposes.
The GED Plus Admission Program is only available in certain areas with large populations of disadvantaged youth, and enrollment is limited. Entrants need to score 50 or higher on the Armed Forces Vocational Aptitude Battery (ASVAB), score 46 or higher on the Assessment of Individual Motivation (AIM) test, be at least 18 age, and of good moral standing.
The Army enrolls GED candidates at two locations: at Fort Jackson in South Carolina for the Regular Army, and at Camp Robinson in Arkansas for the National Guard. Those who have passed the GED exam will be directly enrolled.
However, the Army no longer needs the program, as it is generally employing fewer active-duty troops. The program ended in 2013.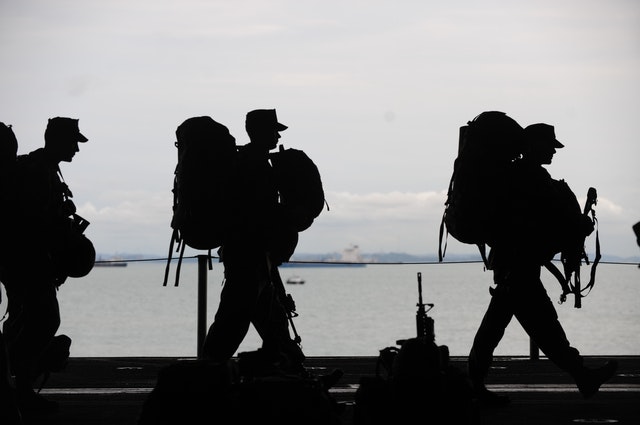 Requirements for GED Holders
There are additional requirements for GED holders that are not required by high school graduates. All services severely limit the number of high school dropouts (including those with GEDs) who can enlist each year. This is because the statistics on the time of enlistment by years show that this subject does not complete the first full round of military service at twice the rate of those with a high school diploma. or those with college credits.
If you have a high school diploma or higher, you are placed in the Tier 1 classification, and if you have a GED without college credit, you are placed in Tier 2. However, if a student has a GED completion of 15 college credits, the student is reclassified as Tier 1. Tier 1 students must perform at or above the 30th percentile of the ASVAB to be eligible for services. Tier 2 students must perform above the 50th percentile to be eligible for services.
The Air Force is the strictest in this regard. The Air Force allows recruiting less than one percent of the people who enlist each year without a high school diploma. The Marines have the next highest standards. No more than five percent of Marine recruits may be GED holders. The Army allows no more than ten percent per year, and the Navy limits GED enlistment to no more than five to ten percent per year.
There are always more GED holders wanting to enlist in the army than are available, so – even to be considered – GED holders must score much higher on the Armed Forces Vocational Aptitude Board (ASVAB), compared to people employed with a high school diploma. However, if the employed person has 15 or more college credits, he or she is eligible to enlist in exactly the same way as someone with a high school diploma. So, having a GED with college credits is not a problem that employers have to deal with to help employers overcome.
Most employers will first test someone with a GED in the ASVAB and see if he or she qualifies with a high score in the ASVAB. Otherwise, employers will recommend a semester of college that can be completed at local community colleges.
In the United States, each state has its own GED requirements which can be difficult to find on the state website. Adult Education is sometimes handled by the Department of Education, the Department of Labor, or the U.S. Public Instruction or Workforce Education.
GED – Not the Easy Way Out
The GED test sounds like a quicker option to leave high school and enter the workforce or leave home, but it's often not a faster route to military service and also not easier in terms of learning. The GED tests cover the following subjects:
Reasoning through language arts (RLA)
Mathematical reasoning
Science
Social science
GED students must outperform 60% of high school students nationwide in order to pass the exam. You must prepare for the GED, and it is best to learn how to take the test because it consists of multiple-choice and short-form answers. In addition, the test includes longer responses to questions in the form of short essays. GED prep books, online help, and local adult education centers are available across the country.
Following completion of the GED channels, a student must now continue their education at a local community college and enroll in enough classes to earn 15 college credits.
It's now time to take our free GED practice tests in 2024. Let's get started right away!
FAQs
Final Words
In conclusion, joining the military with a GED is an attainable goal for those who have not completed high school but aspire to serve their country. Throughout this guide, we have explored the requirements, benefits, and pathways available to individuals with a GED who wish to pursue a military career. We have emphasized the importance of meeting the eligibility criteria, such as obtaining a qualifying score on the ASVAB exam and meeting the physical fitness standards. Additionally, we have provided valuable insights and resources to aid in the preparation process, including study materials, test-taking strategies, and fitness training tips. Remember, obtaining a GED should not discourage anyone from pursuing their military aspirations. With dedication, preparation, and a strong commitment, it is indeed possible to join the military with a GED and embark on a rewarding and fulfilling career of service to our nation.